A&K's DAP pre-eminence is based on style, build and performance, and David Vivian reckons its A&norma SR25 ticks all the boxes. Read our Astell&kern a&norma sr25 review.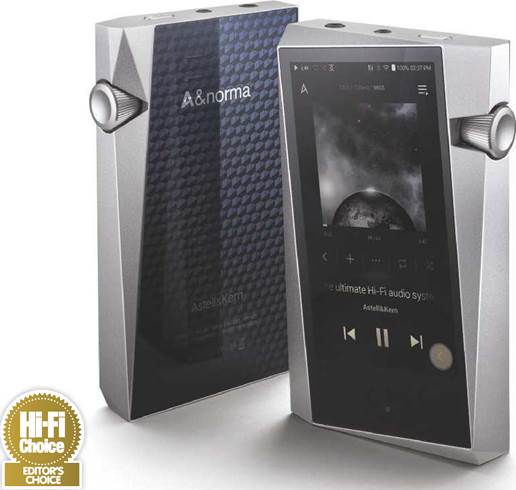 Some have suggested that if the hi-res Digital Audio Player (DAP) hasn't had its day quite yet, it won't be long coming. The thinking goes that smartphones will eventually force DAP makers to accept the inevitability of convergence and face the challenge to come up with something new. Even those of us who prefer to do our serious listening with a conventional amp 'n' two speakers can consider a Bluetooth/wi-fi equipped DAI, such as this A&K A&norma SR25, as a super source, capable of better than CD sound quality, streaming, wireless connectivity and, with memory card slots suitably filled, serious mass data storage. In short, a full-blown music server that fits in the palm of your hand.
Astell&Kern's latest entry-level temptation is a luxury good in every sense and merely the Korean brand's most affordable expression of its high-end ethos. As with the previous gen SR15 (HFC 443), the intriguing partially swirled pack of cards form factor might initially seem a little contrived, but the mildly left-tilted
DETAILS
PRODUCT Astell&Kern A&norma SR25
ORIGIN South Korea
TYPE Hi-res digital audio player
WEIGHT 178g
DIMENSIONS (WxHxD) 64 x 108 x 16mm
FEATURES
• Supports WAV: FLAC; WMA; MP3; OGG; APE; AAC; ALAC; AIFF; DFF; DSF; MQA
• Storage: 64GB plus microSD (up to 1TB)
DISTRIBUTOR Exertis Unlimited Ltd.
TELEPHONE 01279 822800
WEBSITE astellnkern.com
screen actually works brilliantly in practice, compensating for the slight angle the device is typically held at.
Another classy touch is the watch winder-style machined volume wheel on the side that not only looks very cool, but has a satisfyingly precise, light and vibration-free action.
The old SR15 was a comprehensively featured, up-spec DAC but the SR25 moves the story on. Carried over are the two Cirrus Logic 43198 Masterclass DACs in a dual mono configuration, though a new, low-noise PCB is said to have improved the final sound quality. Unlike the SR15, the SR25 supports native DSD256 and 32-bit/384kHz audio and therefore doesn't downsample 32-bit files for 24-bit playback and convert DSD128 files to PCM 24-bit/176kHz. Arguably, this level of file support is more than most people will ever need, but raises the sonic ceiling for a higher-res future.
Of more immediate benefit is the Performance Mode, which optimises memory depending on the data size of the song being played and prevents sonic losses in data transmission during playback of higher quality files – something only likely to be an issue if you have a large hi-res library.
Another first for the SR25 is the inclusion of Sony's 24-bit compatible LDAC Bluetooth codec alongside aptX HD and A2DP, though plumbing the player into a home wi-fi network is equally straightforward.
Interface improvements include a more responsive and smoother scrolling 9.1cm touchscreen that benefits from a faster quad-core CPU and version 9.0 of the Android operating system. Navigation is as simple and intuitive as it gets with clear menus and more functions per screen, meaning fewer touches to get where you want.
Also on the top panel are the 3.5mm and balanced 2.5mm headphone jacks while, at the opposite end, there's a microSD slot for expanding the 64GB internal memory and a USB-C port, a little larger than the more typical micro USB socket. Claimed battery life is a fairly spectacular 21 hours of continuous music playback.
Sound quality
Before I insert the microSD card containing a handful of hi-res test tracks, the previous reviewer has kindly forgotten to remove their selection, which includes a 24/192kHz FLAC of Elvis Costello and The Attractions' glorious Lipstick Vogue. Starting with a pair of Meze 99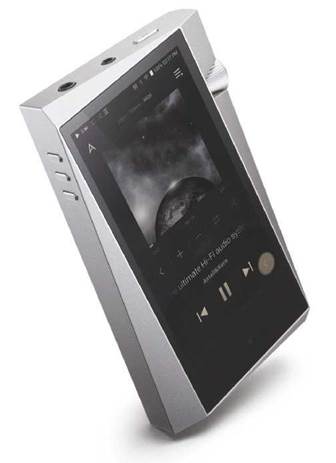 THe 'Moon Silver' skin and dark grey, carbon- style back panel exude sleek style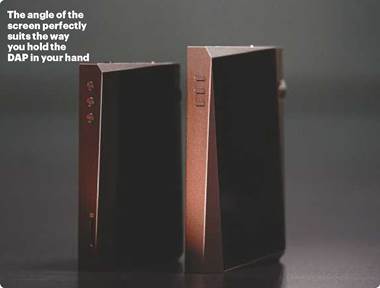 Classic headphones (HFC 410), it becomes obvious what a killer combo well-mastered 24/192 and a dual-DAC DAP of this calibre can be.
It's a track that on CD, while fast and energetic, can sound overly sharp, aggressive and in your face. Here, the breathless pace of Pete Thomas' drumming, Bruce Thomas' lithe and fluid bass and Costello's high velocity vocal combine still greater impetus with honed and polished leading edges, a more finely graded tonal palette, a greater sense of texture, depth and acoustic
Performance Mode prevents sonic loss during playback of higher quality files
ambience. The anticipated brittleness appears to have receded. The music is more potent and harder hitting yet also richer, smoother and much easier to listen to.
Transparency is superb. The SR25's ability to expose nuances of technique and capture what might otherwise be vanishingly subtle ambient cues is something of a marvel and, with microSD cards duly switched, almost magically teases out unsuspected sonic subtleties from the usually slightly dark and dense sounding 24-bit/44.1kHz recording of Stuart McCallum's Vital Space from the album Distilled. This slow saunter through a distinctly cinematic, multi-sampled, ambient soundscape is airier and more fluent, acquiring an immersive quality that makes it easier to hear exactly what's going on and, in turn, minimises listener fatigue.
Even with plain old Red Book 16-bit/44.1kHz, the sophisticated, keyboard-led funk of Joe Sample's All God's Children from his Spellbound album, the SR25 manages to mine finer things, the combined talents of Sample's Steinway, Marcus Miller's bass guitar, Lenny Castro's percussion and Omar Hakim's drums driving the track along powerfully but with sublime style and grace. The sonic results are equally satisfying when using the A&K to stream wirelessly via a wi-fi network (I try KEF's LSX HFC 456, Cyrus' ONE Cast HFC 464 and Geneva's Aerosphere Large HFC 407) and not least, via Bluetooth, to a Chord Hugo 2 (HFC 428) DAC in my main system.
Conclusion
If you're really into DAPs, the A&norma range stretches deep into exquisite high-end territory and you'll need deep pockets to go there. The good news is when the best in the business makes its entry-level product, it tries just as hard. The price isn't cheap, but you'll struggle to find better
OUR VERDICT
Editor choice
Astell&kern a&norma sr25 review
Quite simply, probably the only DAP you'll ever need
PROS
Rich, transparent, rewarding sound
design and build
features
Best Astell&kern a&norma sr25 prices ?
MORE DEALS

How it COMPARES
Arguably the closest rival for the A&norma SR25 is FiiO's M11 Pro. Although not as stylish or quite as beautifully built, it nevertheless matches its spec blow for blow with twin DACs, LDAC Bluetooth and native 32-bit/384kHz resolution. It's also smooth and responsive in operation. It sounds good, too, if lacking just a little in the way of soundstage depth and the A&K's ultimate finesse.