A&K's latest audio player looks conventional enough but, as Ed Selley discovers, it has some unique features under the hood. Read our Astell&Kern A&Futura SE200 Review.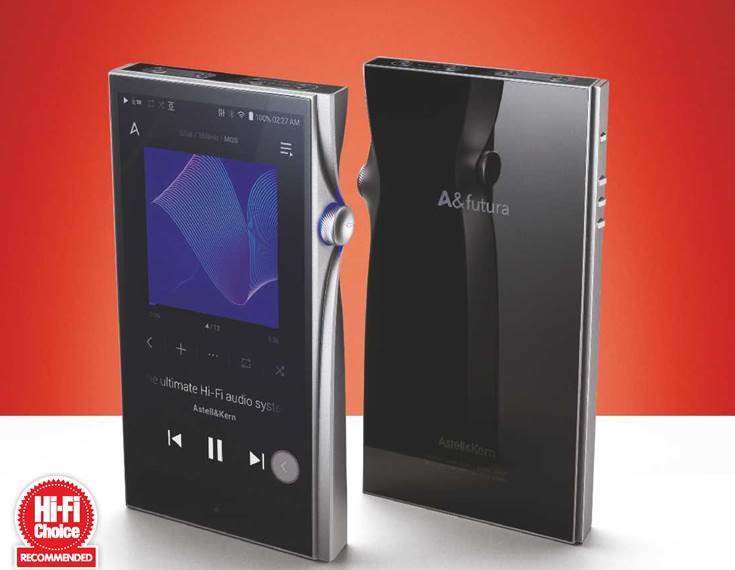 In recent years, the market for dedicated portable audio players has been forced to up its game in response to the traditional 'iPod-type' player sector being subsumed by the continued rise of the smartphone. Astell&Kern has judged this shift extremely effectively and now offers three very distinct ranges of audio players with prices starting from £. The SE200 is rather neatly positioned smack bang in the centre
DETAILS
PRODUCT Astell&Kern A&Futura SE200
ORIGIN South Korea
TYPE Digital Audio Player
WEIGHT 274g
DIMENSIONS (WxHxD) 77x 132 x 16mm
FEATURES
•   Parallel AKM and ESS DAC outputs
•  Quoted battery life: 10 hours (AKM); 14 hours (ESS)
•  256GB internal storage
•  MicroSD slot
DISTRIBUTOR Armour Home Electronics
TELEPHONE 01279 501111
WEBSITE astellnkern.com
of the middle 'A&Futura' range and is yours.
A first glance at the portable player raises the not unreasonable matter of why it costs nearly three times the A&Norma SR25 that was reviewed back in HFC 465. The format handling of the two is identical (although, in fairness to the SE200, there's not anything I could realistically think to add) and while the SE200 sees an increase in its internal capacity to 256GB, the presence of a micro SD card slot with a maximum capacity of 1TB on both devices is going to be the final arbiter of actual capacity.
There are some other oddities, too. The SE200 does without the LDAC Bluetooth codec that comes with the SR25 and the quoted battery life is lower too. The most significant difference concerns the interface. Like the SR25, the SE200 also utilises an Android base for its operating system, which means that Tidal (inclusive of masters and MQA support) and Deezer are installed as standard. This can be augmented with other services via the Astell&Kern download system, but in a very peculiar move indeed, none of them allows for content to be stored offline – meaning that it can only be accessed with a network connection.
Thankfully, the SE200 does have a feature that goes some way towards explaining its higher cost. Internally, it features an AKM AK4499EQ DAC that outputs in the trademark Astell&Kern practise to either a 3.5mm unbalanced socket or a 2.5mm four-pole balanced connection. It also has a pair of ESS ES9068AS DACs that have their own 3.5 mm and 2.5 mm outputs. Effectively, the SE200 has two completely independent decoding and output stages that allow the user to choose between the leading DAC chipset manufacturers of the moment.
Each output stage is also slightly different in an effort to complement the chips themselves.
Your choices don't end there. Both outputs have adjustable filter settings and there is a complete user EQ system, which should give considerable scope for adjustment. In the (hopefully unlikely) event of you not liking either converter, you can attach an external one via the USB-C output and an OTG connector. Finally, even if LDAC is absent, you can still connect to the SE200 via aptX HD Bluetooth for when you don't want a cable between your head and the player.
There's another feature that is potentially handy, too. Once placed on a wireless network, the SE200 can be instructed to act as a UPnP library and becomes visible to any renderers on the same network. While I'd hesitate to use an SE200 as a full-time server solution, it has some benefits for holidays and other situations where it becomes your access point for your content where otherwise it would not be available. In some brief tests here, it works extremely well in this role. Like other devices of its type, you can also set a line-level output and use the SE200 as a source in a main system and, while the cable required to do it looks a bit weird,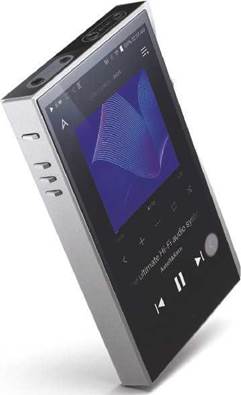 The more traditional display than the SR25's slanted one is much easier to use
the 2.5mm-to-twin XLR connection is fully balanced.
Like the rest of the Astell & Kern lineup, the chassis of the SE200 is largely made of metal but there are some refinements to the process that are worthy of note. As part of the A&Futura series, the SE200 has a ceramic rear panel that mirrors the display on the front while the metalwork itself is absolutely exquisite. The sculpting around the
volume knob is, without exaggeration, one of the loveliest bits of detailing I've seen on any product at any price. It isn't cheap, but the SE200 stands comparison with devices at similar prices (see How it compares). One aspect of the styling that appeals to me a great deal is the lack of the slanted display. I'm aware that some people rather like it, but as a left hander the one thing it guarantees is that no matter how I hold it, the screen is never properly upright. The SE200 avoids that and, thanks to the angled edges, is comfortable in the hand at the same time.
Sound quality
Once you've stopped channelling your inner Kevin McCloud over the design, the Astell&Kern is no less impressive musically. Using Sennheiser's IE 800 S earphone (HFC 434) and connected via the conventional 3.5mm socket, the early running is made by the AKM 'side.' Listening to a 44.1 rip of Buck 65's Talkin' Honkey Blues, the AKM chipset does a better job of sweetening this extremely stark recording and does so without losing the emotion – at times barely concealed fury – of Richard Terfy's unique vocals. The natural talents of the Sennheiser are well to the fore here, but this is further aided by the SE200's considerable gift for creating a convincing soundstage.
Even without any form of crossfeed setting, it is able to push information out in front of the listener.
The ESS output, almost regardless of filter setting, sounds a little harder and leaner than the AKM. As many of the albums I enjoy a great deal have a somewhat lean presentation, I'm more of a fan of the AKM, but with something that is naturally lusher like the sumptuous 24-bit/96kHz download of Craig Armstrong's It's Nearly Tomorrow, the extra fine detail and more up-front presentation
It quickly becomes second nature to flip between different DACs and filters
begins to make much more sense. Where it really shines, though, is when you switch to using the balanced output. Employing AKG's N5005 (HFC 437) with its 2.5mm cable attached, the slightly more laid-back presentation of the headphone combines to spectacular effect with the ESS DAC. The same lush soundscapes created by Armstrong feel like they have nigh-on unlimited headroom and the SE200 combines dynamism and effortlessness to truly spectacular effect. The balanced output of the AKM chipset still sounds good, but struggles to reproduce the same dynamics.
What neither side struggles with is headroom. As you might expect, using the SE200 with earphones isn't ever going to see you short of volume, but switching to Audio-Technica's AT-HA2000Z over-ear model (HFC 412) doesn't give any cause for concern either. I am sure there are planar magnetic designs and the like
IN SIGHT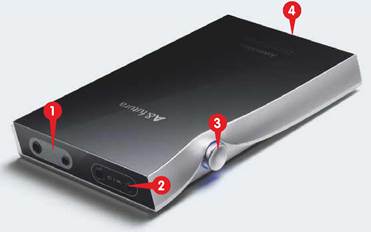 1) ESS 3.5mm unbalanced port/2.5mm balanced port
2 AKM 3.5mm unbalanced port/2.5mm balanced port
3 Volume dial
4) Micro SD card slot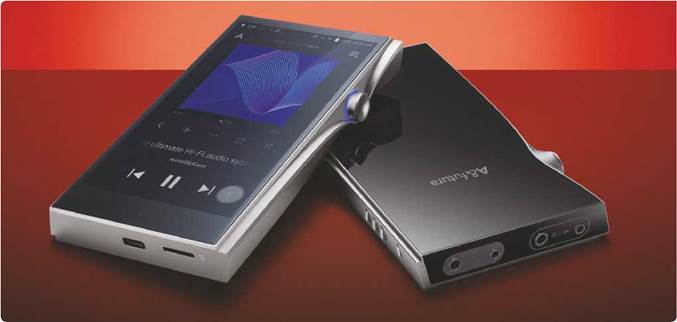 that might be more challenging, but Astell&Kern builds a complete higher tier of players for that sort of role.
The performance of the SE200 is also admirably consistent regardless of the material you happen to be feeding it. The decoding is more than up to the job of making sure that hi-res content like a gloriously leftfield DSD64 vinyl rip of Corduroy's High Havoc is delivered with all the nuances – including in this case, the turntable that played it – fully intact, but nothing I play from the less well mastered end of proceedings gives me cause for alarm. Likewise, the Tidal app, while operationally limited, sounds entirely in keeping with the same rips on the internal memory or on an SD card.
The sculpting around the volume knob is one of the loveliest bits of detailing going
What's important to stress about this choice of outputs – and what makes them so compelling in design terms – is that there's no configuration or setup lag when moving between them. Because they are completely separate from one another you can start listening to something, wonder if the other DAC might do a better job, pause, change socket, press play and find out. There's no menus to be adjusted, no switches to be flicked, you simply have the benefits of both stages available all the time.
Furthermore, as you become more versed in the respective abilities of both outputs, you find yourself moving effortlessly between the two, depending on your mood and music selection.
No less impressive is the Bluetooth section. Obviously, if you do have LDAC-capable headphones or earphones, the lack of it here is going to be an annoyance, but via the Bluetooth yoke of the N5005 (which is 'only' aptX capable) the SE200 is still a compelling DAP to listen to. For the avoidance of all doubt, a wired connection is (considerably) better, but that completely misses the point of why Astell&Kern includes the feature. When you're on public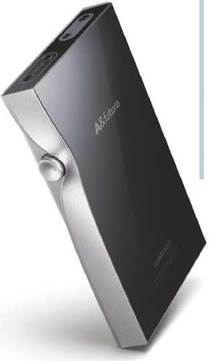 transport, even in its recently thinned out state, you don't want a cable that can catch or snag. In fitting Bluetooth, A&K ensures that your significant investment is able to do the sort of real-world grunt work that is going to feature for most of us. And, while it isn't as good as the wired connection, it is more than good enough to engross.
Conclusion
The A&Futura SE200 is unquestionably a highly specialised player, but it takes its unusual design premise and does a remarkable job of converting you from thinking: "Why has A&K done this?" to: "Why doesn't everyone do this?" Once you dial into the flexibility of having an output and filter for any occasion, it becomes second nature to use it in the manner that it is intended, flipping effortlessly from one to the other. Combined with the usual Astell&Kern build and truly top-notch aesthetics, you have a remarkable portable player that should win many converts
OUR VERDICT
Editor choice
Astell&Kern A&Futura SE200 Review
Outstanding portable player that offers great spec and excellent performance
PROS
Fabulous sound quality with great flexibility
superb build and aesthetics
CONS
Streaming services are online only
fairly pricey
MORE DEALS

HOW IT COMPARES
Chord Electronics' seriously capable Hugo 2 (HFC 428) is the same price and can be used in connection with a smartphone via OTG as a portable (ish) option and also can use the 2go module (HFC 465) to become more self-contained – albeit at the cost of another £. The Hugo 2 outperforms the SE200 and it makes more sense when connected to a full­size hi-fi. Despite being well made, it has to concede to the beauty of the SE200. As a home hi-fi device the Hugo 2 has the edge, but once you're on the move the SE200 makes more sense.