Astell&Kern A&futura SE100 digital audio player
by Steven Stone
Astell&Kern almost singlehandedly created the market for high-end portable music players. If green French cartoon cats are your thing, A&K also has a M. Chat version for £ more.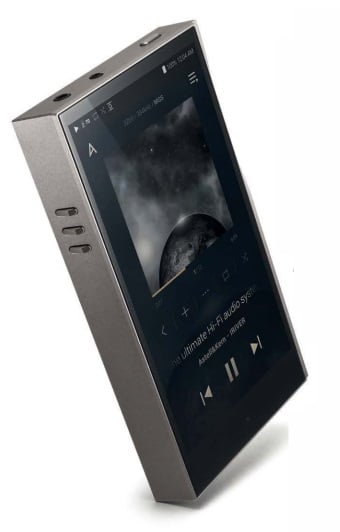 The SE100 utilizes the ESS Sabre ES9038PRPro DAC, which has eight separate channels for processing that are divided into four channels for the right and four for the left. It supports PCM formats from 8kHz to 384 kHz with bit depths up to 32 bits. It also supports DSD natively up to 11.2 MHz. The SE100 stays au courant with all the latest Bluetooth codecs for V4.1 including A2DP, AVRCP, and aptX HD. Its built in storage maxes out at 128 GB and the single micro SD card slot can accept 512 GB cards, bringing the SE100's total storage space up to 640 GB.
The SE100 isn't merely another rectangular box. With its angled parallelogram sides, recessed knurled volume knob, and 133mm by 76mm by 15.3mm aluminium body, it fits comfortably into your hand. Your fingers naturally wrap around the stylishly angled edges. Like past models it features a glass backplate. But unlike past models, it features a larger display area with a 720 by 1280 full colour touchscreen. With a beefy 3700mAh 3.8V Li- Polymer battery the SE100 can deliver up to 11 hours of playing time using 44/16 tracks at 75% volume levels. Recharging time is a speedy two hours.
With a published spec of 123 dB signal to noise from its balanced outputs and up to 4.1 Vrms of potential output, the SE100 has greater power output than A&K's previous flagship model, the AK380. The SE100 also has superior total harmonic distortion and noise figures compared to the AK380. With a voltage-controlled crystal oscillator, the SE100 is capable of precise clocking to 800 femto seconds. Luxury brands, such as Astell&Kern, are often accused of not offering good value, but the performance of the SE100 offers a powerful counter argument. It delivers the performance of their previous flagship model at half the price.
Sonically the SE100 delivers the goods. If you want to tailor the sound, you can make and save your own EQ settings.
As with past Astell&Kern players, the SE100 comes without a dedicated case, but you can purchase a Toscano leather case in blue, red, or black for an additional $ from A&K's website. Also, like all previous Astell&Kern portable players the SE100 has an ergonomically elegant operating system. It turned on in under twenty seconds and the menus are laid out in a straightforward, logical manner. I like the fact that AK Connect, which lets you stream from your home system's NAS, was right at the top of the primary menu.
Headphone compatibility wasn't an issue with the SE100. It had sufficient gain, even from its single-ended output, to drive Abyss Diana headphones and Beyerdynamic DT-990 600 Ohm headphones with no issues. At the other extreme, the SE100 exhibited no extraneous noise or hum when playing music through a set of 115 dB-sensitive EarSonics EM10 CIEMs.
Sonically the SE100 delivers the goods. If you want to tailor the sound, you can make and save your own EQ settings. My early Rolling Stones albums especially benefitted from some EQ adjustments. When I compared the default "normal" EQ settings with EQ off, the normal EQ setting had slightly lower volume coupled with a tighter, more controlled low end. I made several "UserEQ" configurations for "bad" recordings such as my Charlie Christian box set. I especially like the fact that you can easily erase especially egregious EQ experimentations.
While the SE100 is certainly not inexpensive, it delivers a premium experience, with its physical style, ergonomic elegance, and sonic prowess. With its extensive networking, USB connectivity, and firmware updatability, the SE100 should remain a musical constant companion for many years in the future. Maybe that's why it's in Astell&Kern's A&future line…
Summary
Astell&Kern A&futura SE100 Review
Sonic Character: Neutral, balanced, focused
PROS
Eight Channels of Digital processing
ESS Sabre ES9038PRPro DAC chip
Can handle a wide range of headphone sensetivites
CONS
Glass back plate is slippery
Only one card slot
Best Astell&Kern A&futura SE100 prices ?

Astell&Kern Professional Portable Audio Player A&Futura SE100 Titan Silver AK-SE100-TS/h1> Model: SE100 Body Color: Titan Silver Body Material: Aluminum Display: 5inch (720 x 1 280) Touchscreen Supported Audio Formats: WAV FLAC WMA MP3 OGG APE AAC ALAC AIFF DFF DSF Sample rate: PCM 8kHz...


IRIVER Astell&Kern Portable Audio Player A&Futura SE100 Titan Silver (AK-SE100-TS) Connectivity Technology Bluetooth, Wi-Fi, USB Component Type Battery, Amplifier Supported Standards MP3, AAC, ALAC, DSF, AIFF, APE, FLAC, WMA, WAV, OGG Media Type SDHC Memory Storage Capacity 128 GB Screen Size 5...


£

2,995.00
1 new from £2,995.00
in stock

MORE DEALS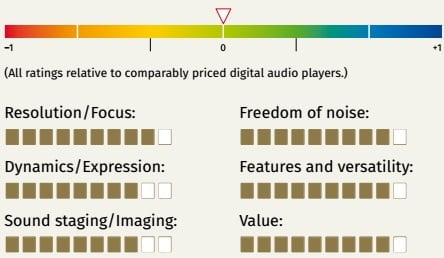 TECHNICAL SPECIFICATIONS Astell&Kern
Type: High-resolution digital audio player
Inputs: 2.4Hz Wi-Fi, Bluetooth 4.1/aptX, A2DP, and AVRCP, playback from onboard storage, USB 3.0
Outputs: Balanced 2.5mm and unbalanced 3.5mm headphone outputs. Supported file formats: PCM to 32-bit/384kHz, DSD to DSD128 (native DSD)
Storage: 128GB ROM, and one Micro SD card slot capable of 400gB card Output power:
Balanced output: 4.1 Vrms
Single-ended output: 2 Vrms
Battery: 3700mAh Lithium Polymer
Accessories: USB type C cable, micro CD card slot cover,
protective film 2x for front and back, warranty card, Quick Start User Guide.
Dimensions (HxWxD): 15.3 x 75.8 x 132.7
Weight: 241g
MANUFACTURER INFORMATION
ASTELL&KERN, iRIVER LTD.
IRIVER House, 18-gil 5, Bangbaero, Seocho-Gu,
Seoul, Korea 06664 ASTELL&KERN USA
19600 Fairchild Road, Suite 125, Irvine, CA 92612 USA URL: astellnkern.com
DISTRIBUTED IN THE UK BY
SCV Distribution
Tel: +44(0)3301 222 500